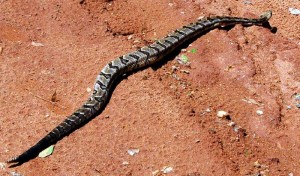 According to a recently published study, over 27 billion dollars in federal grants and direct payments are awarded to sanctuary cities, although that figure probably doesn't take into account the recent designations of the Borough of Prospect Park and Cincinnati as such. One need only recall the names of Adrienne Shelly, Jamiel Shaw Jr. and Sarah Root in order to grasp why protecting the identities and safety of illegal aliens is such a dire threat to American citizens, and why President Trump's decision to target these scofflaws is necessary.
In the case of California, which is ground zero for the erasure of our national identity, the means by which law and security can be restored are manifold, including the withdrawal of federal funds and the possible breakup of activist federal courts. When the leader of the upper chamber of the California legislature brags about how many members of his family are illegal aliens the idea of ignoring this ongoing, man-made disaster is simply not an option. The insanity that began in that state has already spread to others, including New York, which is once again considering giving driver's licenses to illegal aliens. This is the same state where, Democratic protestations to the contrary, the real threat of voter fraud is swept under the rug, unlike in Texas, where a Mexican national is currently being prosecuted for illegal voting.
That is why the confirmation of Jeff Sessions as Attorney General-after weeks of obstruction and slander by Senate Democrats-is welcome news. We need an advocate arguing on behalf of American interests against the bureaucracy and judiciary, which are committed to delegitimizing our culture and erasing our borders. This isn't simply a fight against jihadists and criminal aliens, but a campaign to restore the primacy of American interests within our society. Even though it's a minority position in the nation's capital, the fact that influential members of Congress are planning to work with the Trump administration to roll back the unprecedented wave of immigration we've experienced over the past half-century is a good sign.
Whether it's the American worker replacement program known as the H-1B visa, or the critical pressure placed upon health care and education, the burdens imposed by our current immigration system are overwhelming. The grim reality is much different from the glossy fabrications and fantasies spun by corporate America, much less the Democratic Party. A party which maintains that gay rights is somehow compatible with the world's most anti-gay religion, an intellectually incoherent stance you must hold in order to remain a member in good standing. A party which recruits activists who actively encourage the violent suppression of speech inimical to their warped ideology.
This is the dawning of a new era, and we need to start using the tools at our disposal to begin the reversal of decades of damage. However imperfect the vessel, Donald Trump is at the forefront of this evolution.