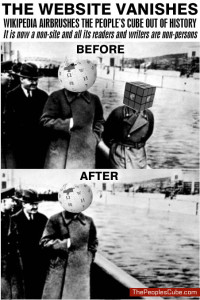 As we pointed out last year in our social media series, the neutralization of non-leftist perspectives by the gatekeepers of the world's most popular websites is rapidly shrinking the sphere of acceptable public debate. While European countries-as well as Canada-are using the state itself to suppressing dissenting views, there is also parallel effort by these site's owners-and in the case of Wikipedia, its users-to erase inconvenient truths. A concrete illustration of this phenomenon occurred recently, when The People's Cube-a satirical conservative website-had its Wikipedia entry deleted.
The fact that it had received extensive national coverage over the course of its existence-on prominent blogs, from respected journalists, on terrestrial and satellite radio-that Oleg's artwork had been displayed at dozens of protests throughout the country, was completely irrelevant to the unpaid mandarins of Wikipedia. Even the favorable discussion of The People's Cube by Neil DeGrasse Tyson, a patron saint of drearily conventional progressives, could not spare Oleg's site. The debate surrounding the article's deletion-which you can read in its entirety here-is illuminating for a number of reasons, not least because of the complete refusal by leftist Wikipedians to acknowledge the existence of alternative points of view.
When confronted with the inescapable fact that these perspectives do exist, their response is to ensure that they did not have a platform on their website. This is the universal response from the left to this past year's stunning repudiation of their political philosophy. Rather than introspection-scrutinizing how they could have been so egregiously wrong about so many things they believed to be true-their response is to create a cordon sanitaire, both online and off, around beliefs they cannot countenance. And this attempt to sanitize the entire public sphere from the virus of non-leftist thought is only beginning.
The unjustified and unjustifiable deletion of The People's Cube created a handy pretext for the deletion of the Wikipedia article about Communists for Kerry, which anticipated Oleg's current website. And even as Wikipedia is purging problematic content, other online titans are pursuing an agenda-at the behest of national governments-to suppress samizdat perspectives. Facebook is now helping Germans curate their newsfeed by eliminating any "fake" news which might reflect badly upon the woman who has spent the past 2 years attempting to obliterate German nationhood and culture.
This relentless assault on truth is occurring across the globe and in nearly every aspect of our culture and politics. It will only increase in intensity as the left recognizes their hold upon our civilization growing increasingly tenuous, and the decades-long march through our institutions rendered meaningless. It's up to us to ensure that their resistance does not succeed. We can't allow the greatest age of global communication to be controlled by high tech Stalinists.