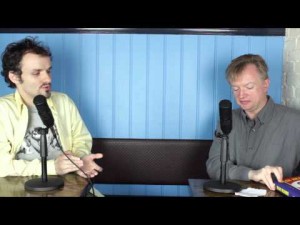 All (good) things must come to an end, as the omnipotent, yet enigmatic, interstellar character Q pointed out to the crew of the USS Enterprise during a particularly harrowing flight. As in Gene Roddenberry-created science-fiction epics, so it is in the world of pop cultural podcasting, which is why this month marks the conclusion of my nearly year-long professional collaboration with my good friend Todd Seavey. 
Even though Todd is leaving for bigger-and hopefully more lucrative-endeavors, the Perry portion of Seavey and Perry on Culture will persist, as I cycle through a diverse cast of witty anarcho-capitalists willing to plumb the depths of art-both high and low-as well as the current cinematic zeitgeist. Until next month's edition of Perry & Co., when you'll discover who my exciting new co-host is, I ask you to enjoy our interview with agorist science-fiction maven J. Neil Schulman, whose name you might recognize from previous podcasts. We discuss the film adaptation of his dystopian novel Alongside Night, among many other scintillating subjects. 
In closing, let me just wish Todd the best of luck in future enterprises and urge you all to follow this site for future updates on my adventures in quasi-political podcasting!