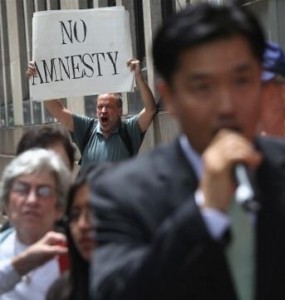 NY ICE acquitted itself ably during the national day of protest against the President's lawless immigration policies earlier this month. You can see the results for yourself by visiting the recent items section of NY ICE's website. You can also view video footage from the event by visiting the Epstein Rocks channel on Youtube. Joanna Marzullo, founder and president of New York ICE, provides a summary below the fold.
August 2, 2014, New York, NY. NY ICE contributed to the National Day of Demonstrations against the recent illegal alien flood.
The YouTube Video shot by Border Patrol USA shows NY ICE being told to move by a DHS functionary, while asking, "Why aren't you moving the illegal alien trespassers out?  Why aren't you tell them to move out?" The current illegal alien flood abuses and misuses the 2008 immigration law, which was supposed to apply to unaccompanied minors who are trafficking victims! Not people complicit in their own smuggling. Obama is creating this crisis.Much of the mainstream media wants to construe a case of an illegal alien toddler crawling for the border with a teddy bear, which is not the case and implausible.
The history of American compassion is being used against us to try to allow for thousands of trespassers to come here on a pretext, in their effort to gain access to the U.S.'s resources.
The U.S. cannot sustain this. Obama is not operating in the best interests of the American people, which have, over and over, supported American sovereignty. He seeks to ignore us in the interest of those coming here illegally, and is assisting their Trojan horse operations to come here.
Special thanks and Credit to Pamela Hall for much of the videos and [hotos!  For the complete Flickr set, please view this photo set.