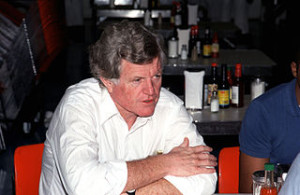 Although the law which fundamentally transformed this nation does not bear his name, the late Senator Edward Kennedy was one of the chief architects of legislation which unleashed the tsunami of unfettered immigration, the effects of which we will be dealing with for many generations to come. Like almost every bill or momentous policy supported by a member of the Kennedy clan, this drastic alteration of America's traditional system of immigration was predicated upon lies. 
First, our cities will not be flooded with a million immigrants annually. Under the proposed bill, the present level of immigration remains substantially the same … Secondly, the ethnic mix of this country will not be upset … Contrary to the charges in some quarters, [the bill] will not inundate America with immigrants from any one country or area, or the most populated and deprived nations of Africa and Asia … In the final analysis, the ethnic pattern of immigration under the proposed measure is not expected to change as sharply as the critics seem to think.
A cursory examination of reports and press releases from the Census Bureau or Bureau of Labor Statistics, or simply a stroll through Little Mogadishu , demonstrates the sophistry used so skillfully by the supporters of the '65 Immigration and Nationality Act. Journalist Julia Hahn has dissected some of the most baleful effects of this law over at Breitbart, which has distinguished itself for its insightful, unvarnished and fact-based analysis of this subject in recent years. If only the rest of the Fourth Estate acted as responsibly, perhaps we'd have a much different country.