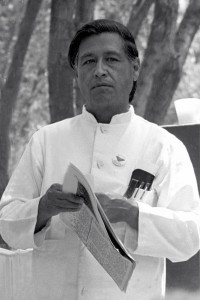 With a little under a month remaining until Election Day, the Obama campaign has transitioned into full-blown hispandering mode. This week's symbolically potent, yet empty, exercise in  gestural politics entailed President Obama designating the home of former California labor leader Cesar Chavez a national monument. The ostensible purpose of this decision is to rally support among one of his party's most reliable voting blocs, i.e. Hispanic Americans. Because even though they still decisively support the President's reelection, that support does not always translate into votes, as other analysts have trenchantly observed.
What makes Obama's trip to California so fascinating though is not the seemingly transparent play for votes among an ethno-linguistic group already inclined to vote for his reelection, but the figure he chooses to honor in pursuit of this goal. It should be remembered that as head of the United Farm Workers, Cesar Chavez was militant in his efforts to increase the wage scale of California's poorly-paid and exploited agricultural workers. And despite the fact that his legacy has been appropriated by radical open borders socialist Dolores Huerta-a co-founder of the UFW-Chavez was most militant in his actions against illegal aliens and the guest-workers from Mexico large growers relied upon in order to depress wages.
While today he is looked upon simply as a totemic figure for the left, to be utilized for whatever cause du jour-including comprehensive immigration reform-requires his unique biography, Cesar-or, as our President prefers to call him, (SEE-ZER)-Chavez began his labor activism in response to the federal government's bracero program. His opinion regarding mass immigration-at least with regard to the agricultural sector-was the polar opposite of the contemporary Democratic Party. His views on illegal immigration were identical to that of today's Minutemen, and expressed in a much more militant manner, it should be noted.
One of the chief reasons that farmworkers in California achieved parity with skilled workers in the manufacturing sector was precisely because of Chavez's political efforts at restricting the inflow of unskilled, foreign workers to the state. Unsurprisingly, the steep decline in wages for this same cohort of workers-and the one that's followed-tracked with the opening of our borders, including successive amnesties and manipulation of existing work visa programs by large agri-businesses. Agricultural concerns which still don't believe there are enough foreign-born farmworkers in this country, despite the evidence that mechanization and innovation has actually improved farming techniques in the state of California.
You would learn none of this, however, if you relied upon the dominant media narrative for information about Cesar Chavez's career, or gathered a fragmentary picture of  his life from vacuous, politically expedient gestures like this new national monument, or the christening of a warship in his name. However, my point isn't that the mainstream media selectively omits certain facts and/or opinions when it suits their political purposes-which is something most of you already know-or that leftist, open borders advocates are willing to hijack the legacy of an iconic figure in order to see their ideological beliefs into law.
I raise this issue because it speaks to a gaping hole in this nation's historical memory. The fact that craven politicians-of every stripe-will lie with impunity in order to advance their agendas is nothing new. However, the notion that they can so easily manipulate the public in an age where access to information is quite literally at the fingertips of each and every American, should be profoundly disturbing to anyone who values our republican form of government.
If the philosophy of such an historic figure-who was alive less than two decades ago-can be willfully distorted-despite the abundance of evidence clearly establishing his views on this subject-in pursuit of a tendentious agenda, then what hope is there for engaging in an honest, open debate during this most contentious of presidential elections? If the American public is not able to differentiate fact from fiction, then what hope is there that it will make an informed decision as our country casts its ballots this November? As the great Spanish philosopher, poet, and novelist George Santayana once wrote, those who cannot remember the past, are condemned to repeat it.