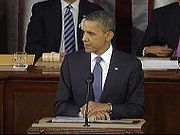 Talking Points Memo has a great story exploring  the likely Republican reponse to President Obama's proposed immigration reforms, most of which seem to have been contained in a brief, one paragraph-long sound bite he delivered during last night's State of the Union.
One of our friends, Rep. Steve King, praised President Obama's call for greater enforcement and border security, but reiterated his opposition to any form of partial or full amnesty, including any reintroduction of the recently defeated DREAM Act. He also implied  that the administration was unlikely to follow through on its tough talk on immigration, although the nearly unified opposition among Republicans to amnesty has forced its hand on this matter to a certain degree.
Anyone who watched yesterday's SOTU is free to give his or her thoughts on how it went, and what they thought of the President's priorities, below.