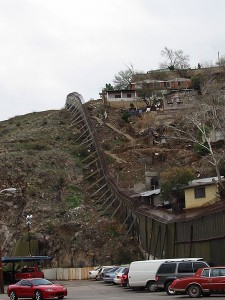 An op-ed in yesterday's USA Today by a former counsel to the September 11th Commission brings us troubling news of a recent decision by DHS Secretary Janet Napolitano to discontinue a vital intelligence gathering program at the border.
SBInet was a promising experiment that would have reinforced human intelligence and border policing capabilities with advanced technologies intended to ultimately deter illegal border crossings and smuggling of contraband across our nation's southern border. For a description of what the program entailed, and why it was cancelled, go here.
Read the op-ed by Janice Kephart  posted above, as well as the response by USA Today's editorial board, and come to your own conclusions. For what it's worth, I believe that her critique of the Department of Homeland Security's recent decision is valid, and reinforces the widespread public perception that the Obama administration's halfhearted attempts at strengthing border security are merely an elaborate  ruse intended to build public support for looser immigration laws, if not a full-fledged amnesty down the road.