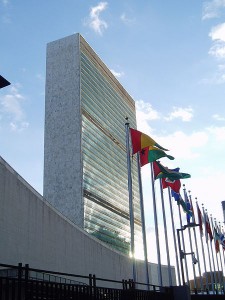 Hans von Spakovsky has written a devastating piece attacking the report submitted to the United Nations Human Rights Council by the Obama adminstration, which you can read in its entirety at the Heritage Foundation's indispensable blog, The Foundry.
Although a relatively brief summary of the position espoused by the our nation's State Department, which has been enlisted in the President's unrelenting campaign against the state of Arizona, it hits upon the fundamental problem with the claims made by the authors of this report. Namely, that there is no inherent right to be admitted to the United States, much less to live here indefinitely without fear of apprehension and/or deportation. Foreign nationals are admitted to the United States at our government's discretion, and in order to remain in the United States you need to abide by certain specified laws which illegal aliens, by definition, do not.
Notwithstanding P.J. Crowley's artful evasion of what this report actually implies, i.e. that Governor Jan Brewer's decision to sign SB 1070 into law constitutes a human rights violation, the administration's strategy is clear. It intends to further demonize the people who are leading the charge for immigration enforcement and border control, even if it means diminishing the status of the United States on the world stage. The only way we can fight this is if other states begin to emulate the state of Arizona.
There is strength in numbers.