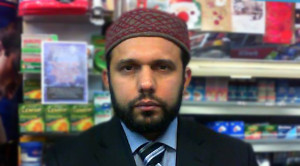 Happy Easter for those of you who observe Pasch in this country and throughout the world. Unfortunately, many Christians aren't able to celebrate this holy day because of a certain pacific religion which originated in the Arabian Peninsula. Their persecution throughout the Middle East and Africa-as well as any other region where the companions of Mohammed find themselves in numbers great enough to  exert their will-is a fact which can't be denied or explained away. Alas, that zone of imperilment now includes the continent of Europe, which has seen plenty of carnage because of its leaders decision to welcome millions of Muslim settlers.
As Mark Steyn points out, this violence has been meted out even to people who are ostensibly devout Muslims, but whose actions or principles run afoul of  current Islamic dogma. The sheer brutality and gruesomeness of this murderous assault calls to mind the near decapitation of 2nd Battalion Drummer Lee Rigby, who was dispatched by 2 Muslim converts in an equally cowardly manner. That Belgian police are attempting to dissuade people from holding a tribute to the victims of the Brussels massacre because it has become an Islamic cantonment-eagerly trying to acquire fissile material-tells you all you need to know about who really controls Europe.
How many more times people in Belgium or Scotland will able to celebrate Resurrection Sunday remains to be seen, but current trends do not look promising.