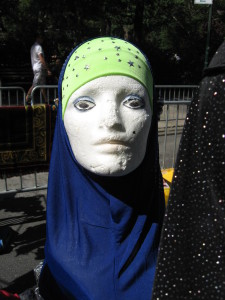 Update: More coverage, courtesy of The Silent Majority No More.
This photo of a bizarre mannequin hijabi was taken by intrepid citizen journalist Urban Infidel. In an update to a post made earlier this week, our good friend has provided us with a illuminating photo essay chronicling the next level weirdness that constitutes an annual event known as the Muslim Day Parade. Although the overt expressions of support for jihad were kept under wraps this year, ordinary patriotic citizens-or simply people who value such quaint ideas as sexual equality and political pluralism-can't help but be repulsed by the display.
You can see the full slideshow on Urban Infidel's Flickr account.