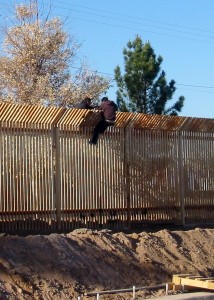 Today marks the 257th anniversary of the day when the Declaration of Independence was finalized and officially published. On a day when we celebrate the founding of a unique experiment in self-governance, it's only appropriate that we examine how far we have strayed from the ideals that animated our unique republic's founding. From the unconstitutional and arbitrary edicts issued by the White House, to the administrative state's wanton endangerment of American lives, our government increasingly represents no interests other than those of a small, self-interested elite.
Which is why I urge to participate in an experiment that has proven effective in previous campaigns to thwart amnesty. Bricks for the Border is a playful way of emphasizing a deadly serious issue. Namely, the irresponsibility of an administration that refuses to fund a virtual fence, let alone construct a real barrier along our southern border, and a Congress that prefers political window-dressing to border security. Contrary to popular open borders mythology, walls do work, which is why they are so popular in countries with extensive, porous borders.
Let's hold politicians accountable for the contempt they've displayed towards the American people, and let them know how we feel about their abdication of responsibility.