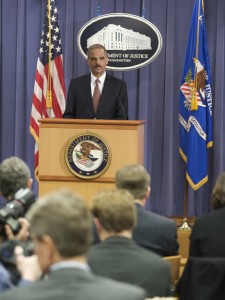 With the unfortunate news that Eric Holder is going to remain in his position as head of the Department of Justice for the second Obama term-at least for the foreseeable future-it's only fitting that we take a cursory glance at the defining moment of his tenure as Attorney General. I refer, of course, to Operation Fast and Furious, which let high powered arms-of the sort demonized by anti-2nd Amendment demagogues and Holder apologists Chuck Schumer and Dianne Feinstein-walk into the hands of ruthless Mexican drug cartels with the encouragement and under the leadership of Obama appointees in the ATF and Justice Department. 
One of those individuals is former Phoenix ATF Assistant Special Agent in Charge George T. Gillett, Jr., a man who was entrusted with overseeing Fast and Furious for over half a year, beginning in late 2009. It's now been confirmed that a gun from this lethally stupid operation has been traced back to Mr. Gillett personally. Anyone who's followed the fallout from perhaps the single most outrageous abuse of power by the Obama administration is familiar with the casualties which have resulted from this scheme, which are spread across the entire hemisphere.
The lack of accountability throughout this administration for those officials responsible for its implementation-including Mr. Gillette and others who have been promoted in spite of their criminality-should be astonishing, but is in fact reflective of the habitual blame-shifting and hypocrisy at the heart of Barack Obama's presidency. What's more, it reflects the inherent double standards that animate our government, which seeks to deny innocent American citizens their constitutional rights even as its leaders promulgate illegal policies that lead to the deaths of hundreds of innocent civilians abroad.
The same Capitol Hill gasbags eager to erode the 2nd Amendment in the wake of the Sandy Hook massacre, a campaign based upon non-existent facts, are the first to defend Eric Holder and Justice Department officials under whose purview Fast and Furious unfolded, and who have done everything in their power to obstruct congressional investigations into their actions.
Whether we will make any progress in achieving justice during the President's second term is debatable. Will the media-with a few commendable exceptions-continue to cover up for the malicious actions of government officials? Will the senators who installed Eric Holder into his lofty position begin to question their unfailing loyalty to an Attorney General who has lost the confidence of the American public and, to a great degree, Congress?
We shall see. Something that this latest revelation confirms is that elections do have consequences, some of them fatal.