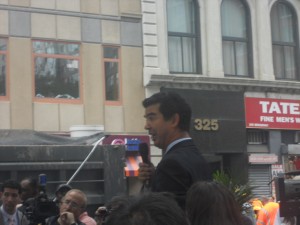 Unfortunately, Intro 656 has been signed into law by friend and ally of illegal aliens,  Michael Bloomberg. I'll let Joanna Marzullo, of New York ICE, inform you of the disturbing details.
Hi, New York ICers. Happy Thanksgiving!
Unfortunately, it is during holidays such as this that traitorous politicians try to sneak controversial legislation past us.  They do this because they figure Americans are going to be too distracted with the holidays to get upset. Such is the case with Bloomberg, who very expectedly, and sneakily, signed Intro 656 into law yesterday. 
 I am including links towards the end of this email, one about Councilman Ydanis Rodriguez, who supported and voted for Intro 656 and has been arrested for his opposition to Arizona's SB 1070.  Most recently, Ydanis was arrested in NYC's Zuccotti Park during Occupy Wall Street.
Ydanis Rodriguez was actually found guilty by the NYC Council's Standards and Ethics Committee for poking his own female Staffer.
I hope that sinks in:  We have a NYC  Councilman who was found guilty by our own NYC Council involved and pushing for Intro 656.  He wants a say in who among illegals at Riker's gets released back into the NYC population. 
Here is the good news and what I am "thankful" for:  Councilman Peter Vallone, who represents NYC's District 22, and, in fact, represents Riker's, is opposed to Intro 656.  I have been on the phone with his office, and strategizing.  I proposed that he, as Chair of their Public Safety Committee, introduce legislation that will nullify Intro 656.  Fight fire with fire…all in the name of NY's public safety.
Because when those illegals who are released from Riker's under Intro 656 commit further crimes, and victimize more New Yorkers, who will we blame?  The Council will be accountable!
I am also including a link below to the transcripts and entire Legislation of Intro 656.  In the hearing transcript for 11.2.11, you can read how the Council allowed Rodriguez to vote after the meeting has been adjourned! Indeed, they waited for Rodriguez to come!!  Craziness.
In the actual Legislation of Intro 656, it states:  "Nothing in this local law shall be interpreted or applied so as to create any power, duty or obligation in conflict with any federal or state law".  Hypocrites!  The entire legislation Of Intro 656 Interferes with the federal government's responsibility to enforce immigration law.
More about the degenerate, Councilman Ydanis Rodriguez.
Link to Intro 656 legislation and transcripts.