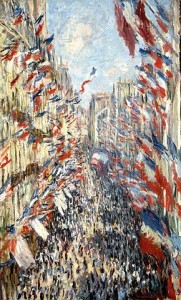 Update: The jihadist truck driver, Mohamed Lahouaiej-Bouhlel, was known to police, naturally. 
English language updates from Michael Horowitz. 
A timeline of the attack. 
The Nice attack: a firsthand account. 
What pathological altruism looks like. 
Plus ça change, plus c'est la même chose. 
A column written by Pat Buchanan in the wake of the Pulse night club massacre. 
Let's not forget the real victims of this horrific event. Muslims who might briefly feel guilty about the massacres of innocent human beings which their co-religionists routinely commit. 
More coverage of the ongoing terror attack in Nice. 
A minimum of 60 fatalities. 
Unconfirmed local reports that the driver has died.
Yet another attempted mass murder in the streets of France. Follow live coverage on Sky News. More photos and video coverage, courtesy of Heavy.