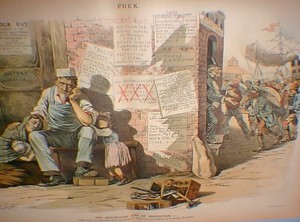 The facile nature of the immigration debate within this country can be infuriating to those of us who've invested time and effort into gaining a fuller understanding of this complex, interconnected series of issues. It often seems like we've living in the dystopian future outlined in the Neil Postman classic, Amusing Ourselves to Death. A world where linear thinking and the gathering of empirical evidence in order to buttress your argument are considered inconsequential, if not a hindrance, while the refraction of charged images and exploitation of emotional triggers are paramount. In that sense, the photo of Aylan Kurdi's corpse being carried from the Mediterranean shore is emblematic of the type of discussion this subject engenders. Rife with emotionalism and moral preening, devoid of introspection, and remarkably fact and logic-free.
That's why the chat between Professor Glenn Loury and economist George Borjas featured on Bloggingheads TV is such a breath of fresh air. They not only engage in a substantive examination of this topic-along with its profound implications for American society-but discuss why the rational, cost-benefit analysis that usually factors into any domestic policy debate is completely discarded when the subject turns to immigration. They honestly explore why the elites who have benefited from unfettered immigration from the developing world have stigmatized criticism of their agenda to the point where it is almost never broached in national conversation, and is taboo among Democratic Party incumbents and aspiring political leaders.
It's worth watching in its entirety. I'm looking forward to your feedback.