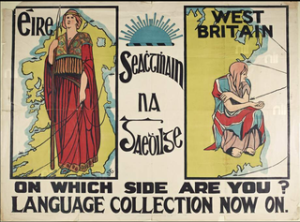 This week marks the centenary of a series of events which would forever change the future Ireland and Great Britain. Planned and set in motion by the Military Council of the Irish Republican Brotherhood-a group of Irish republicans seeking a democratic Irish state free of British rule-and supported by James Connally's Irish Citizen Army and the Irish Volunteers led by Patrick Pearse, the Easter Rising was a momentous historical event. April 29th was the date on which Pearse ordered his men-and all the other companies under his command-to surrender to General William Lowe of the British Army.
Max Boot, despite his egregiously stupid foreign policy views, is a first-rate military historian, and he's written a rather astute analysis of the Easter Rebellion for Commentary Magazine, which is well worth reading. Particularly for its insight into the character of the fighting itself, which was done honorably and with as much restraint as a violent revolution permits. Even the much more ruthless Irish War of Independence-which foreshadowed the barbarity that would characterize The Troubles-was prosecuted by both parties to the conflict with an eye towards the judgment of history.
D.M. Leeson's historical study of the Anglo-Irish War is illuminating in this regard, because it explores the personal motivations of ADRIC officers as well as the Black and Tans. The targeted reprisals, in addition to what were widely considered to be war crimes during the conflict itself, are presented in a meticulous manner which contextualizes the seemingly incomprehensible violence of the period. The unfettered violence of total war perpetrated by both the Baathist regime and its jihadist adversaries is less easy to apprehend, and despite Boot's wishes to exculpate Islam from blame for the charnel house that Syria has become, the two are inextricably linked.
President Michael Higgins has some insightful thoughts about this commemoration and its historical implications, while my favorite Northern Irish blog, Slugger O'Toole, has seen fit to publish a characteristically heterodox Unionist perspective on the Easter Rebellion. For a socialist critique of dissident (violent) republicanism, check out this Guardian article from last year. Finally, if you simply want to enjoy some inspiring rebel music, there is always Youtube.