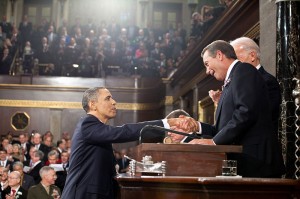 Update: TPP is dead…for now. Roll Call 362. 
Even as Republican leaders of the House of Representatives whip votes for President Obama, the fate of the Trans-Pacific Partnership remains in doubt. Assuming any Republican congressmen exist who actually value the opinions of their constituents, they'd be wise to read the coverage of Breitbart News  regarding the TPP. Particularly the galling insertion of clauses explicitly designed to grant this administration yet more unwarranted authority over immigration policy. Powers that, despite the subterfuge of Paul Ryan and his colleagues, will pose a genuine threat in the future, should this trade deal be enacted.
As a surprisingly astute analysis of this pact published by Reason 2 years ago noted, this debate is about neither freedom nor trade. It is about enriching the political and economic fortunes of a few at the expense of almost everyone who doesn't have access to a K Street lobbying firm or a direct line to the White House. It empowers a President who has used his dwindling time in office to abuse and exploit his Constitutional role, and  it adds more layers of coercion and bureaucracy to a system already designed to thwart the interests of ordinary citizens.
In short, it sucks.