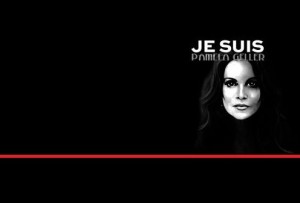 One of the tools the global jihad attempts to use against the West is the imposition of economic and fiscal costs-to the point of bankruptcy-upon its targets. Al Qaeda and the Islamic State, as well as their affiliates throughout the world, have made it clear that they seek to not only impose psychological terror but financial privation upon their intended victims. For those who want to get an idea of just how costly it is to protect yourself and your family from the rampaging armies of Allah, I suggest reading Joseph Anton, the beautiful memoir written by Salman Rushdie which explores the years he was forced to live in hiding for unknowingly offending the tender sensibilities of the Caliphate.
There is no question that Pamela Geller and her colleagues in the anti-jihadist movement face similar economic burdens as they stand up to the most grave threat Western civilization has faced since the fall of the Third Reich. Read Pamela's defiant response to those savages who would not only threaten her life but deprive her of her livelihood simply because she refuses to embrace dhimmitude. Then, if you have the means and the inclination, help defray some of the enormous expenses that are being incurred defending the life of this patriotic woman, who has more courage in one of her pinky fingers than exists in that glass monstrosity located on 8th Avenue.
Send your tax-deductible donation via Paypal to americanfreedomdefense@aol.com — go here. 
Or send to:
AFDI
1040 1st Ave. #121
New York, NY 10022