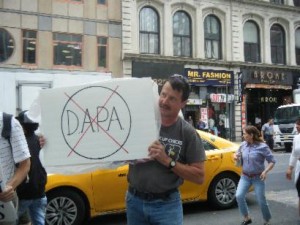 NY ICE marshaled its forces against DAPA-the President's most recent illegal executive action-in downtown Manhattan recently. You can watch footage from the event which was uploaded to Vimeo, as well as read an account of the event by Joanna Marzullo, below the fold. 
5.19.15  New York, NY. The above videos are raw footage of the other side from NY ICE's counter demonstration against DAPA. 
DAPA stands for Deferred Action for Parental Accountability, and is the illegal alien movement's attempt to gain amnesty by using children.
The illegal alien movement seems to think that Americans are willing to throw away our country at the mere mention of the word "children". These children are being used as pawns for their agenda. Amnesties always lead to more amnesties. First DACA, now DAPA. 
In the first video above, in a typical display of arrogance, an Hispanic illegal alien advocate tries to get a group of Chinese people to join him in speaking Spanish. Apparently, his arrogance has led him to believe that all illegal alien advocates speak Spanish, and, no, they don't!
Another elucidating interaction is when NY ICE is told that anyone who wants to come to our country should be able to!
In the second video above, NY ICE sings "God Bless America" at the end of a counter demonstration against DAPA.
No one from the other side sings along to "God Bless America", but they instantly counter with their standby slogan in Spanish, "Yes, we can", with an exploited toddler following the beat with his claps.
NY ICE is even getting some attention again from mainstream press. Here is that link to the
Associated Press article
that received a lot of circulation in various other media platforms. 
Attention Illegal Aliens: No, you can't and you need to Make the Road Back Home.