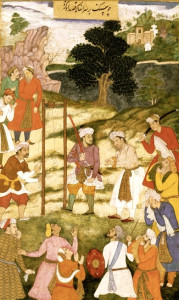 Update: Audio of the moment the attack commenced. 
As we saw during the horrific attacks in France, the Pakistani siege of Mumbai, and almost every other recent jihadist wave, the small minority of extremists have carefully selected their next targets. Courtesy of World Post, an account of the attack on a Copenhagen synagogue. 
A physical description of  the chief suspect has been released. 
Live updates from The Daily Telegraph. Including footage of the shooting's aftermath. 
1 dead, several injured, according to the latest reports. The suspect remains at large. 
It seems like followers of the prophet who shall not be named (PWSNBN) are at it again. BBC News has the news alert, which we'll update as the day progresses. It seems like our good friend Lars Vilks was the target of TROP(tm) once again.