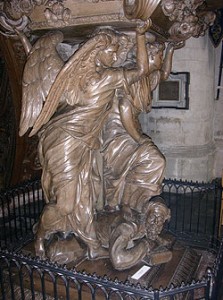 The latest issue of Charlie Hebdo has finally hit the streets of France, no doubt displeasing genocidal Islamic sociopaths and their culturally Marxist, Islamophilic SJW sympathizers alike. The depth of fear of the poisonous, warped ideology which has paralyzed the gatekeepers of power is on full display, as the contemptible reaction of this Sky News anchor demonstrates. As James Kirkpatrick so succinctly puts it, this comes down to either identity or extinction.
It's readily apparent which side the Kultursmog has chosen in this debate. One need look no further than a pathetic, cringing New York Times article praising the foresight of the overseers of the Appellate Division Courthouse, who removed a statue of Mohammed at the behest of a group of third world, Islamic backwaters during renovations in 1955. Reading that piece reminded me of nothing so much as the craven nature of the townsfolk in the classic episode of The Twilight Zone It's A Good Life, who are cowered into submission to the will of a deranged, sadistic child with supernatural powers. 
Thankfully, the people who are bombarded by these messages have retained both their dignity and their hostility to an ideology responsible for a host of outrages both past and present. The most welcome development in this respect being the grassroots, spontaneous East German civic movement known as Pegida, which has drawn character assassinations from even the current chancellor of the Federal Republic of Germany. Just like their slightly  more earthy counterparts in the anti-Islamization movement, these men and women are revolting against the totalitarian mindset which animates both Islam and the state-worshipping EUrocracy which has colonized public life on the European continent.
As exasperating and predictable as the reaction by the Mesozoic news media has been, we can't ignore the organic, courageous response of individuals like those who comprise the membership of Pegida, or the steely determination of the writers and artists who continue to publish Charlie Hebdo, even as lickspittles and cowards who pose as journalists try to silence them. My faith in humanity dictates that these truth-tellers are the ones who are writing the first draft of history.