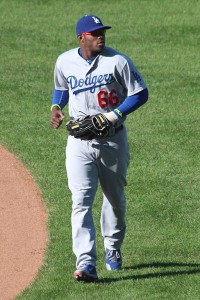 The day after Christmas-Boxing Day, for those of you in the Commonwealth of Nations-seems like an appropriate time for two inspiring stories which exemplify what this country stands for. Namely, freedom and the opportunity to pursue your dreams, both for yourself and your loved ones. Yasiel Puig, the superstar outfielder currently playing for the Los Angeles Dodgers embodies these values and has lived them in his heroic quest to achieve the American dream. In addition to escaping-after several failed attempts-the tropical gulag that is Fidel and Raul Castro's Cuba, he successfully stood up to Los Zetas, arguably the most potent and ruthless paramilitary narco-cartel in Mexico. You can read his captivating tale in Los Angeles Magazine, which explored Puig's circuitous route to the United States earlier this year. 
Just as inspirational as Puig's journey is the story of Hans Von Spakovsky's family, which endured the unspeakable horrors which befell Eastern and Central Europe during the first half of the 20th century before eventually coming to the shores of America. The contrast between the values that sustained them and the values that are inexorably eroding the foundations of the country into which Mr. Spakovsky was born couldn't be more stark.
Both men define, in different ways, the agency and ambition that is synonymous with the United States-and which beckons enterprising people from across the globe. They also provide hope that, despite the narrative of decline that so many are eager to embrace-and which can be very seductive at this moment in our nation's history-there is the possibility of eventual renewal for the United States.