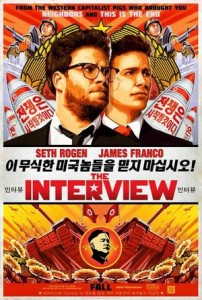 Sony's capitulation in the face of threats by unidentified sources, who are presumed to support the odious Kim dynasty, serves to confirm what most of us have known for some time. Namely, the extent of allowable political discourse in popular culture is inextricably linked to the willingness of the objects of political criticism to violently suppress that criticism. Or, at the very least, intimate the unpleasant nature of the response in store for those willing to offer a dissenting voice. An interview the iconic Indo-British author and apostate Salman Rushdie did with Irshad Manji several years ago is worth watching again, if only because in it Rushdie makes the ineluctable observation that with each acquiescence to the grievances of Islam-whose appetite for grievance is insatiable by its very nature-Western society weakens its resolve to stand up to less imposing gangsters and their intimations of violence. As this complete and utter surrender to a third-rate, despotic Asian reich demonstrates.
In some ways, the comparison is exceedingly apt. Even though the Kim dynasty is often described as a cult of personality, it could just as accurately be called the civic religion of North Korea. And just as devoted Muslims view any desecration of their holy book-real or imagined-as an offense worthy of death, the penalty for not properly venerating the image of a Kim is something best not contemplated. So it's no surprise that a film which-initially, at least-concluded with the assassination of the current ruler of the DPRK would occasion the type of response it has engendered, even if Kim Jong-un is not as beloved as the man whose legacy he hopes to emulate.
It's worth noting that the less personal cinematic assault against Juche dogma which was released in 2012 did not occasion similar retaliatory strikes from the North Korean regime, although it and its supporters were  displeased by that film as well, naturally enough. There is an artistic work of much greater value than the one starring Seth Rogan and his friend James Franco which explores the tragedy of North Korea while utilizing humor, albeit in service of illuminating a seemingly impenetrable prison, which I think my readers would enjoy. I'm speaking of Dear Reader: The Unauthorized Autobiography Of Kim Jong Il, which relates the ongoing tragedy taking place in that state in the most remarkable way I've ever seen in print-you can read my review here.
Perhaps unsurprisingly given the subject matter, and the craven nature of American publishers, although it's shared by many others, Dear Reader is a self-published book. Nevertheless, it's one of the outstanding pieces of literature on this subject and deserves to be read by as many people as possible, especially those who see the North Korean regime as some sort of penny dreadful or Saturday Night Live skit, rather than the horrific concentration camp for over 20 million human lives which it is.