This past week's immigration theater confirm what we have been saying for years. Namely, that the House GOP leadership can't be trusted to protect the interests of the American public, especially when they conflict with its corporate benefactors. Even as Boehner's attack dogs from silicon valley are unleashed against his own members who dare to stand up for their constituents, his chief deputy in the House of Representatives continues to peddle the spurious line that he disagrees with Obama over immigration reform, i.e. legislative amnesty.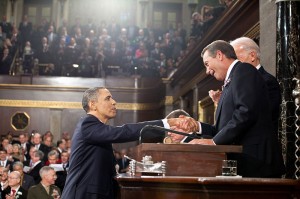 Thankfully, as the invaluable Mickey Kaus points out, there is something you can do about this! You can find out what that is below the fold. 
Who might stop it and why:
–McKeon– He may not want to be remembered, in retirement, for starting a donnybrook that costs Republicans seats. His office phone number is 202 225 1956. The Armed Services Committee is 202 225 4151.
–Goodlatte might defend his committee's jurisdiction (as he did last year). Don't count on it, though. Goodlatte's been going along with the amnesty plans of the House leadership, expressing support for some kind of deal. His phone numbers are 202 225 5431 (his office) or 202 225 3951 (Judiciary Committee).
–McCarthy: He's obviously scared of something, otherwise he'd have been pushing openly for amnesty instead of operating through surrogates.  Maybe he can be more scared.  His office is 202 225 2915.
–Boehner:  202 225 0600 (Speaker's office), 202 225 6205 (his regular member's office). Boehner probably wants another term as Speaker, in which case he is susceptible to pressure not to betray his Hastert Rule pledge. But he may retire–especially if Republicans don't regain the Senate, in which case it might make more sense to focus on …
–Cantor: Cantor wants to be Speaker one day– one day soon. He would probably stop his amnesty campaign instantly if he were persuaded it would scuttle his Speakership chances by convincing a large segment of his caucus that he's a pointless sack of ambition an unreliable conservative.  His numbers are 202 225 2815 or 202 225 4000.
Members are, as always, surprisingly sensitive to telephone calls…