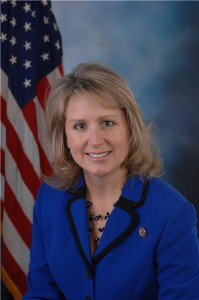 As the White House contemplates an expansion of its constitutionally dubious administrative amnesty, it's worth taking a look at how the treason lobby's Republican accomplices are dealing with the public's repudiation of their most cherished legislative priority, i.e. opening the spigot to an endless stream of cheap, imported labor. A particularly revealing exchange happened a week or so ago on the Laura Ingraham Show during an interview with faux conservative Rep. Renee Ellmers, a woman who ran for Congress under the banner of the Tea Party.
Instead of listening to the concerns expressed by her constituents on the subject of immigration reform, i.e. amnesty,  however, she has decided to throw in her lot with the one of the most lavishly-funded, dense Capitol Hill lobbying networks. Which might explain why Tamar Jacoby and her allies are rallying around the embattled congresswoman even as conservative North Carolinians seek viable alternatives to the complacent incumbent.
While the Republican Party leadership doesn't get it, Republican voters understand the necessity of preventing the implementation of another amnesty for which the GOP will (rightly) be held culpable. An amnesty that will make the election of candidates like Renee Ellmers an impossibility in the near future, something that open borders Republicans like her don't seem to grasp.