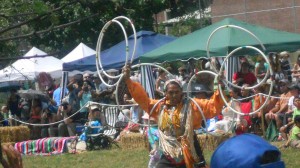 One of the overlooked gems of New York is the Queens County Farm Museum, which sits on the largest tract of undisturbed farmland in the entire city and has been in operation for over three centuries. With summer rapidly fading into fall, I thought it appropriate to take a moment to reflect upon the natural beauty of a city that's not often thought of in the context of cow pastures or farmland. The picture you see above was taken at the annual Thunderbird Mid-Summer Pow Wow, a three day event attended by over forty American Indian nations and featuring numerous inter-tribal dance competitions which takes place on the Queens County Farm.
The woman you see in these photographs is not only an exceptional hoop dancer, but a pioneer of sorts, being one of the first women recognized as the winner of  a national competition in modern hooping, a dance form that was traditionally the exclusive province of men.
In addition to the female hoop dancers, there was a full program that included competition from children as young as four and five years of age, to elders, as well an invitation for visitors to join the circle.
The evening culminated, like years past, in a celebratory bonfire, which I was unable to watch this year, unfortunately. I was able, however, to walk around the farm/museum's grounds, which always give me a secret thrill-it reminds me of a time when most of this city used to resemble upstate New York.
In addition to the beautiful varieties of flora, there were plenty of fauna.
Although, the oppressive heat that day made most of them a bit camera-shy.
Some being more photogenic than others.
Overall, it was an relaxing, yet deeply edifying, experience. Those of you interested in visiting the Queens County Farm Museum can find its hours of operation and directions here. Those interested in learning more about the Thunderbird American Indian Dancers can explore their rich traditions on their website.