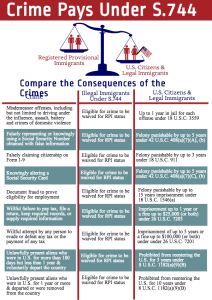 Update: A list of the Republican senators who abandoned their constituents. 

The chart above-compiled by the Federation for American Immigration Reform-illustrates how the Gang of Eight bill rewards criminality-at least, if the crimes are being perpetrated by a favored political constituency. In this case, illegal aliens. Tonight the Senate will vote upon the Corker-Hoeven amendment to S. 744, which the inestimable Mickey Kaus does a fantastic job of deconstructing in his latest post for The Daily Caller. As National ICE Council President Chris Crane points out, this amendment contains no significant interior enforcement provisions, which is probably why it met with approval from the same cabal that has blocked every tangible effort at border security that's been proposed since debate began.
Of course, there is lots of corporate welfare  included in this monstrosity of a bill, including   kickbacks to the entertainment industry, Alaska canneries, and every other conceivable special interest group. And much like it's antecedent, Obamacare, none of the supporters of this bill has even read the legislation in question, which you can do here.
I also urge you to call your senators before this vote is held. This is not even a fig leaf, it's a sham designed to lull legitimately angry Americans into a false sense of complacency. Tell the U.S. Senate that you will not stand for it!