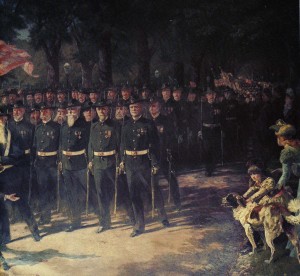 This is Memorial Day weekend, and as we've done in the past we will honor the sacrifices of those who have fallen in defense of this nation. One of the organizations that honors the memories of this nation's fallen servicemen and defends the values they fought to protect is Riders United for a Sovereign America. Tomorrow, its members will participate in the 7th annual Phoenix Memorial Day Rally. Participation is free, and you can register to ride here.
Let's remember that the men and women who laid down their lives in defense of this country did not make the ultimate sacrifice in order to fill the coffers of foreign government lobbyists or those who would pervert our system of law in order in order to impoverish American workers through high-tech indentured servitude.
Even if you're not participating yourself, those of you in the Phoenix area should come out and support some patriotic riders as they honor the lives and service of those who gave all for their country.