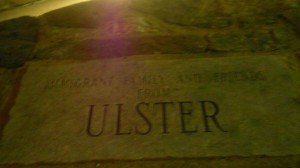 Like much of this country, the Tri-State Area is filled with people whose ancestry-however far removed-can be traced back to Ireland. Either the Irish Republic itself, or the six counties constituting Northern Ireland-including its political and symbolic center, marked by the stone inscription seen  above. Last week I partook of an evening celebrating the contributions made to American literature and theater by Irish artists in An Evening Salon. 
The first such event held by the Irish American Writers and Artists, at The Gaelic-American Club in Fairfield, Connecticut, it was organized with the assistance of the Irish Consulate. The Deputy Consul  himself, Peter Ryan, spoke briefly about the collaboration between his office and Irish-American civic and artistic organizations responsible for such events.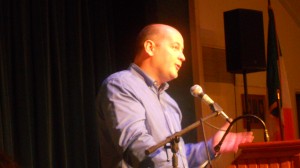 Most of the evening was filled with readings from selections of novels and poems written by writers associated with IAWA, set apart by brief musical interludes.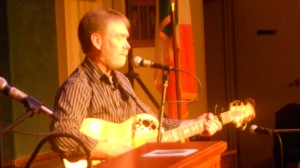 Con O'Halloran-a native of Dublin now living in Connecticut-performed some traditional Irish folk music. In addition to songs featuring a solo guitar, he was accompanied by accomplished Irish fiddler Marie Reilly, seen below.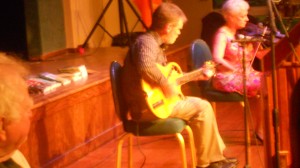 Damien Connelly-originally from County Clare-and his wife Sally Tressler Connelly likewise regaled the crowd with some entertaining reels.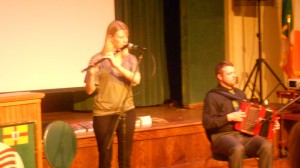 In addition to the rich musical tradition this country has inherited from Irish immigrants, one of the most enduring cultural legacies Ireland has bequeathed to us can be seen and heard in American theater. The home of some of the most iconic dramatists in the English language, from Sean O'Casey to Oscar Wilde, Ireland has also contributed to a flourishing of the theatrical arts in countries around the world, including the United States, where Eugene O'Neill-son of the Kilkenny actor James-defined American theater for most of the 20th century. That tradition persists in the form of modern Irish playwrights, such as Colm Tóibín and the writers/actors at  An Evening Salon.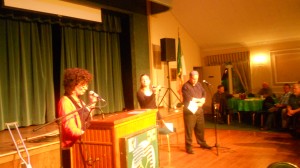 Two of them, Byrne White and Allison Flannery, staged two scenes from a play that chronicled the history of an Irish family which had made the decision to leave their country behind in order to pursue a more emotionally satisfying life across the Atlantic. Migration-as well as its attendant challenges-was a recurring theme throughout the evening. Even those who were not born in Ireland had some tangible connection to the country, mostly by way of relation, which they tried to incorporate into the narrative structure of their work.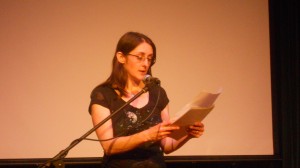 One of those writers is Kathleen Donohoe, who I must disclose is my cousin, a New York-based writer who is the Co-Director of Irish American Artists and Writers. She read a chapter from her novel You Were Forever, the winning entry in the 2012 Crossroads Irish-American Writing Contest. Set in a fictionalized version of the borough where we were raised, it's a story that chronicles the life and struggles of its protagonist, a firefighter named Eileen O'Reilly. Irish DNA is embedded within the FDNY, as it is in Kathleen's family, so the departure point for this novel shouldn't come as a surprise to readers approaching a story about one of New York's Bravest.
You can read an excerpt from You Were Forever here, and more of her prose on her website.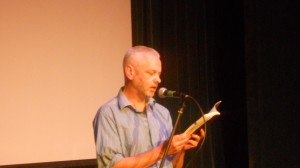 Although I came there to hear and support Kathleen, I also had the opportunity to enjoy readings from several other distinguished Irish-American writers. One of the pleasant surprises that evening was Seamus Scanlon, who read portions of his collection of crime fiction, As Close As You'll Ever Be. One of the problems I have with public readings-even from writers who craft the most vivid, intellectually arresting prose-is the concentration required to focus on the scene or chapter from beginning to conclusion. I had no such difficulty following the writer above, whose sardonic wit and rhythmic, almost hypnotic cadence held my attention throughout.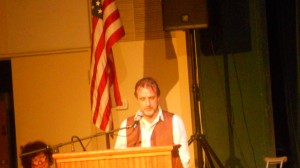 In contrast to the dark, psychological tenor of Mr. Scanlon's work, Kevin Holohan's reading was marked by the type of withering sarcasm and smart-ass humor that is embodied in some of Irish literature's more comic corners. He read an excerpt from a satirical novel he's written which highlights the inscrutability of certain elements of Roman Catholic doctrine, as interpreted by one particularly befuddled parochial school student.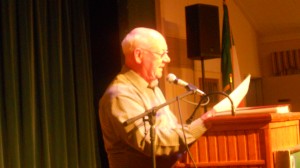 Noel McGovern, an Irish-American radio host, actor, and writer, read from his work When I Was Young And Foolish, a lachrymose tale of four sisters, each of whom was impacted-and whose life was transformed-by the fateful decision of an immigration officer on Ellis Island. If the audience's reaction-both before and after the reading-is an accurate barometer, Mr. McGovern was a crowd favorite.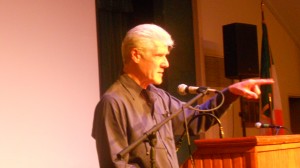 One of the more novel presentations was delivered by Tom Mahon, who unveiled a multi-media work drawn from his collection of prose poems about a community in upstate New York, The Wide Valley.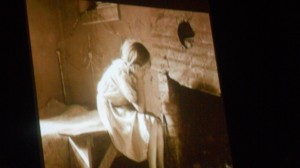 His selection revolved around a young boy whose life was devastated, and family decimated, by the 1918 influenza pandemic.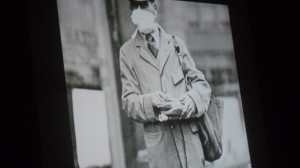 He wasn't the only artist that evening to weave historical elements into his work.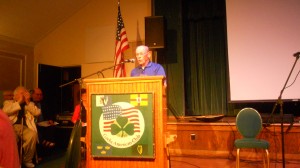 Seamus O'Cuinn, a former English teacher and writer, in addition to reading some poetry that elegized his parents, recited a poem that explored the actions of the Irish Volunteers and the pre-independence Irish Republican Army.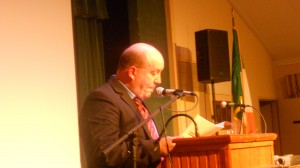 John Kearns, the evening's Master of Ceremonies as well as Treasurer of the IAWA, read a poem entitled Transmigration of Soul, which excavated the ineffable link between the descendants of African slaves and Irish immigrants whose musical heritages joined to create the uniquely American art form of rock and roll.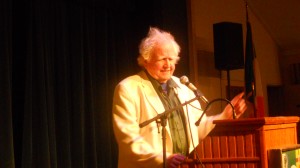 The most voluble performer-and the person who was, presumably, responsible for the standing room only crowd-was Malachy McCourt. An actor, writer, former radio host, gadfly politician, and-as he'll be the first to tell you-the younger brother of the man who wrote Angela's Ashes. Never one to be right about his politics, or politic about rights, began his remarks with a brief diatribe about the Sandy Hook Elementary School shootings. Eventually, he transitioned to the literary climax of the evening, which involved reading a chapter from his memoir, A Monk Swimming. 

As I was listening to his intensely dramatic description of an apocalyptic confrontation between a nude man and a tavern owner, dozens of customers, waiters and a coat check girl, I was reminded of an anecdote the writer had told earlier in the evening. The upshot of which is Mr. McCourt's reply to a woman who accused him of being a disgrace to the Irish. To wit-and here I paraphrase-"of course I'm a disgrace to the Irish, I'm Irish!"
The salon concluded with the multifaceted Malachy McCourt singing a traditional Irish ballad, as he exhorted the audience to join him in song.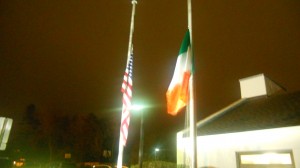 You can read more about the event-and see some of my friend Cat Dwyer's beautiful photography-on the IAWA's weblog.