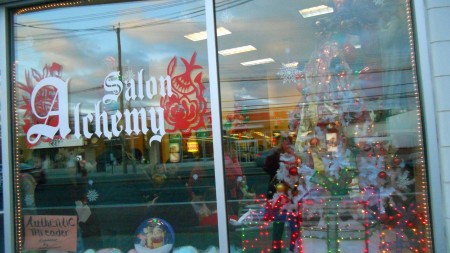 Last December, as you may remember, I went to my old neighborhood of Dyker Heights to share some of the more ostentatious seasonal displays with our readers. This year I decided to stay on the island and visit a local hair salon which was holding a toy drive for families who've been impacted by Hurricane Sandy, whose devastation encroached into nearly every part of Richmond County. 
This was  an extraordinary event for a number of reasons, not the least being its rapid turnaround. To have planned and successfully executed a fully-catered party with live entertainment-including a DJ and magician-which hosted well over a hundred children and their parents is something that truly left an impression, and speaks well of Salon Alchemy's owner, her staff, and Santa Claus, a.k.a. Dominick Andreana, who was responsible for much of the logistical work and preparation this event entailed.
Another remarkable aspect of this event was the spirit of  generosity which characterized it from its inception to the conclusion of the evening. Not only were there dozens of charitable individuals who purchased gifts for children they had never met, as well as donated their time, food, and transportation, but there were also those eager to work as Santa's helpers for hours at a time at an event that, even as a bystander, seemed incredibly stressful-although no doubt rewarding in other respects.
The event itself revolved around the kids throughout the borough who came there for fun and, of course, presents, and the motif definitely reflected the atmosphere of playful childishness.
From the bags of cotton candy,
To a snow globe filled with stuffed animals from Winnie-the-Pooh,
To beloved Peanuts characters Snoopy and Woodstock.
To the ubiquitous balloons which the children in attendance put to good use, depending upon your perspective.
To, of course, the presents contributed by so many wonderful people in Staten Island,
To face-painting  for some of the younger kids, leading up to the capstone of the evening, a performance by Madeleine the Magician for a crowd of  delighted children.
Speaking (briefly) with the owner of Salon Alchemy, I got the sense that this was what the toy drive was really about. Not simply to replace the gifts these children would have received if not for the devastating impact of Sandy. But to give them a respite from the turmoil they and their families had experienced since the hurricane touched Staten Island; even if it only meant a few hours where they could play with the reckless abandon of children.
That was the real takeaway, at least from my perspective, from this event. This toy drive served as a return to normality, however fleeting, for scores of kids whose lives have been disrupted to an unprecedented degree by this natural disaster. It was a small  chunk of time where these children could run around and play, and occasionally, exasperate their parents, but also enjoy a normal Christmas holiday with their loved ones.
To take a look at some more great photos from the day's festivities, check out the Facebook page established for this event. We hope our followers are enjoying a great Christmas Eve, and wish you all a contented Christmas.