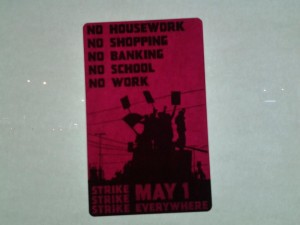 That's the word from organizers of the May Day general strike. No word yet on whether there will be any mass disavowal of loot, booze, or fun. In addition to the May 1st Coalition, whose somewhat muddled agenda includes a call for mass amnesty of  all illegal aliens-a policy suggestion that is akin to pushing on an open door as far as this administration is concerned-the primary orchestrator of this year's events is the Occupy Wall Street movement, which we've documented extensively on this site.
Although the main encampments of OWS on Tuesday will be at Bryant Park and Union Square, with various marches to and from both locations throughout the day, members of New Yorkers for Immigration Control and Enforcement will be staging their own rally at Foley Square. For those of you who want to join them, feel free to drop me a line at the e-mail address provided on American Rattlesnake's Contact Us page.
I'll be tweeting periodically  throughout the day, and perhaps even dropping by the Haymarket Rager, if only to see how it matches up against the Sacco & Venzeti Ultra-rave. Hope to see you there.