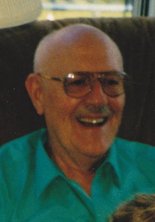 Update:  I've been informed that Seth Thompson's body has, tragically, been recovered by authorities in Eaton, Michigan. You can find more details about this horrific turn of events in the comments section below, courtesy of LBell. We at American Rattlesnake extend our deepest condolences to the Thompson family and friends of the deceased.
I've just been informed of a missing persons case in Midland, Michigan. For any reader living in that area, who's seen the man pictured above in the past day, I'd suggest you contact the authorities. Here's a link to an article that contains more details about the case. Here are some of the most relevant details:
Kramer said Thompson's vehicle, a silver 2003 Dodge Caravan with a handicapped license plate, number 8754M, was located at 3:25 p.m. Monday at the Eastlawn Plaza. It was parked in the row closest to Saginaw Road between the Dairy Queen and Walgreen's, facing the roadway.
Seth Thompson is described as a white man standing 6 feet 2 inches tall, weighing 207 pounds with blue eyes and white hair, though he is balding. It is unknown what he was wearing. Anyone who knows where Thompson is or has information about the case is asked to contact officers at (989)-839-4713, Detective Caryn Weiland at (989)-839-4708 or 911.