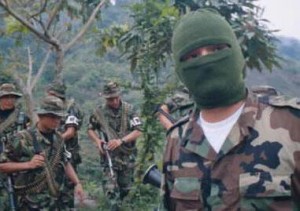 IMPUNITY
Documentary in the Human Rights Film Festival. Presented in partnership with Cinema Tropical, Committee to Protect journalists, and the International Center for Transitional  Justice. 
Produced by Human Rights Watch
In Colombia for the past several decades, including when I lived in Bogota, drug cartels warred against paramilitary militias.  Thousands upon thousands of peasants and villagers were massacred for no particular reason, with no accountability, no reckoning, no prison sentences, no terms of incarceration. The murdered included little children beheaded at whim, women en route to market gunned down, farmers being mutilated and tortured, amputations being a favored form of eliminating so-called guerrillas-even when there were only plantains and guavas, small families, and zero guerrillas, however, rural Colombians were being murdered and buried in mass graves, long past the time of official accountability.
The film's name is well chosen, as the documentary examines the 'justice' and 'peace' process permitted to the paramilitary leaders and their forces: If they handed in their weapons, and admitted to their crimes, complete with details, they would receive far lesser sentences. The  myriad of militiamen are whittled down to several dozen called to account; those convicted even less, with one lawyer comparing the farcical trials to those of Rwanda, Chechnya,  Yugoslavia, and other nations notable for futile trials of abysmal atrocities. It does not wash.
Aggrieved family members loudly assert their complaints, show pictures of the disappeared, complain to the trial participants and the television studio heads in heartbreaking testimony. Stacks of yellowing papers reach to the ceiling in law libraries, as officials solemnly promise to investigate the disappearance of a 12 year old boy, or a loving grandfather. No one is ever brought back to life, obviously. But the trial proceedings exhume mass graves, and investigators  work by hand to piece together heads from broken skulls; to connect spines from puzzle pieces dispersed among disintegrated underwear and clothing. They generate faces from the reconstructed skulls.
Victim's families watch all over the country or in churches and theaters on film projectors, as the militia brutes in their suits sit safe, well away from the suffering. Because of clear irregularities of process and organization, or corruption in general, many families will never learn the truth surrounding the deaths of their family members. Their faces register the anger, resignation and fear that these monsters will escape any punishment for their brutality altogether.
Human Rights Watch documents the multitude of flaws in the Justice and Peace program, and has engaged in extensive advocacy to strengthen investigations and ensure accountability. They document ongoing, egregious abuses by armed bands composed of officially 'disbanded' former paramilitaries. Not for early morning entertainment.
In Spanish, English subtitles. English narration.
marion ds dreyfus        .    .    .                  20©11