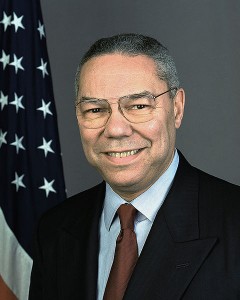 It turns out that admitting to an activity that is both incredibly stupid and illegal on national television is not the smartest way to revive your political career. And for Colin Powell, reviving your political career simply means rehabilitating a reputation that has been shattered beyond recognition in the public eye. In any case, it turns out that he does not exploit sub-minimum wage workers  from the third world, but he still hopes the rest of America can have that opportunity.
I think the lesson to be drawn from this little embarrassing episode is that public shaming works! Even the most shameless open borders and cheap labor advocate, when confronted with the potential criminality of his actions, will slink back to his luxuriously upholstered divan or setee. That's why concerned citizens need to take the lead in exposing people who actively participate in this country's gradual decline.
One good way to go about this is to travel to day labor sites where the people who work so hard to landscape the lawns of Colin Powell's neighbors are hired. Film the people  who hire them-I can testify from personal experience that this is not only fun but highly effective in deterring illegal transactions from taking place. If you belong to a union that supports making you redundant-and goodness knows, there's no shortage of those-write a letter to the editor naming names. A perfect place to start is The Chief but if it isn't published there, then send it to The Daily News; The Voice of the People has published letters with much more trivial complaints, trust me. If you work for a employer that knowingly flouts the Immigration and Nationality Act , make it known to your boss that he or she is in breach of federal law-anonymously, of course.
My point is, there is a salutary effect to exposing bad behavior by our purported leaders. Only when we start highlighting the venality and utterly selfish nature of the people who support the open borders agenda will we begin to see a dramatic change in the way this debate is conducted. We can't continue to allow mass immigration enthusiasts to dictate the terms of the debate, or to hide behind a facade of compassion and altruism that is not only false but a complete inversion of their true motivations.
It's time to take action, inexpensive lawn care be damned!