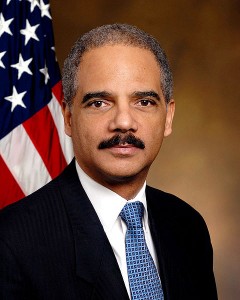 Yet more evidence that the Obama administration's campaign against Arizona is politically-motivated and not simply the result of constitutional concerns over SB 1070 was revealed today, courtesy of Fox News.
Leaving aside the question of whether non-citizen job-seekers should be given the same opportunities as citizens-personally, I feel there are some instances where preferences should be given to American citizens-the fact that the Department of Justice chose to attack Arizona so swiftly after seeking an injunction to SB 1070 demonstrates the degree of hostility towards any state that requires even minimal employee verification.
It's plain as day. Eric Holder and this Justice Department oppose any entity-including other agencies within the federal government-that aims to deter, detain, or deport illegal aliens. Arizona is just the current whipping boy, but their efforts to thwart immigration enforcement extend to any state or city that seeks to alter the de facto policy of amnesty.
 We'll have to see who they go after next.