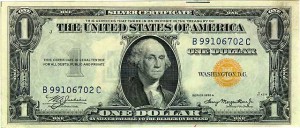 Market-based solutions are the vogue in public policy. Throwing money around judiciously, exploiting people's love of cash rewards has proved an effective measure in dealing with previously intractable problems. The problem of illegal immigration and especially the backlog of illegal aliens within US borders offers the opportunity for such a solution.
Even if our border control is strengthened and new illegal immigration is stopped, there still remains a reservoir of over ten million illegal aliens who have entered in the past. Forcibly deporting them will prove a difficult and expensive task.
So let's pay illegal aliens to leave. Let's pay them a lot of money, because you need to give a big incentive to make someone leave this great land of ours. Since most illegals come from poor countries, and are here mostly to make money, a big pay-off would satisfy their reason to be in this country. Also, their governments, faced with repatriated citizens with fat banks accounts, will have less to complain about.
To those who claim deporting illegal aliens is an injustice, the payments would go a long way to mitigating the alleged injustice.
Let's offer each illegal $10,000 to leave, if they promise not to come back. If they come back illegally, they are jailed, and will face serious fines – perhaps billed to their government. We'd need some safeguards to only pay off those who have been in the country for a while – let's say a year. And those with serious outstanding criminal warrants would be ineligible.
Certainly this would need to be a short-term program, accompanied by the strictest border patrols to stop opportunists. It's designed to purge the reservoir of illegals, accompanied by stronger border control to stop a renewed influx. This is a temporary ad hoc approach, not a long-term solution.
And it would be expensive. Let's say that we also offer them free passage home, and taking administrative costs into account, the actual cost might be $20,000 per head. So let's say this program is wildly successful, leading to 10 million repatriations – $200 Billion dollars. It's a big chunk of change, but if it works, it's well worth the money.
It's not fair, and it's not morally right, but it would be effective. And finding and deporting aliens costs a heck of a lot of money per head anyway.
This article was written by the owner and publisher of American Rattlesnake, Michel Evanchik. Tomorrow Gerard Perry, Editor of American-Rattlesnake will be posting his thoughts on this proposal.
Note: the first published version of this article was an incomplete draft. This is the correct final version, substantially the same in content but with prose more golden and true.