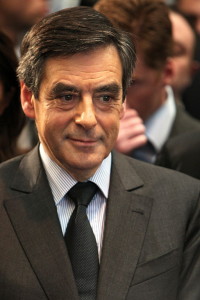 Update: A thoughtful leftist analyzes the 1st round of France's election. 
The first round of primary voting for Les Républicains is complete and it looks like Nicolas Sarkozy's bid to return to the Élysée Palace is over. For those of you who are Marine Le Pen fans, this might appear to be bad news, although the coronation of her presumptive opponent by European media seems a bit premature. The truth is that this result makes her path to victory more difficult, since it eliminates a scenario which diversity-enamored, Islam-friendly socialists would have found untenable. Namely, allow someone who promises to take a sledgehammer to their multiculturalist paradise to become president of France, or vote for a man whom the left has spent the past decade demonizing, despite his French-like qualities.
The prospect of facing a socially conservative, economically liberal opponent with none of the political baggage of the former president, nor the anchor of paternalistic Europhile liberalism, is a daunting prospect for Le Pen. Whether or not she'll be able to overcome the obstacles in her path-should she face Fillon later this year, remains to be seen. What is beyond dispute, however, is that France-like much of Europe and North America-has grown tired of the left's solutions to problems that it had a hand in creating.