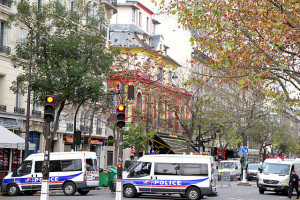 Even as Germany's Dr. Kevorkian  refuses to do anything in her power to stem the tide of invasion that has enveloped her country, the fallout from European leaders' indulgent attitudes continues. A case in point being the recent revelations by a woman who spared France from suffering more carnage in the wake of the Paris and Saint-Denis massacres. Instead of protecting her life-and figuring out ways to identify and detain the Islamists seeking her death-French leaders are exploiting the atrocities of November in order to deprive citizens of their civil liberties and devise new ways of thwarting the dreaded Marine Le Pen. 
You must read the entire article to grasp how perverse the priorities of EU are, but this excerpt should give you an inkling of how imperiled individual Europeans are due to the skewed political priorities of their statesmen:
She said the Islamic State group commander told her he had entered France without documents, among a group of 90 people that had scattered around the Paris region…She asked him whether he had come in with Syrian refugees and he told her he came in a group without any documents. "There are Syrians, Iraqis, French, Germans, British. We came in a group of 90 and we're a little bit everywhere around Paris."
Whether there are 90 or 19 more jihadists wandering the French countryside is irrelevant to a certain degree. We've already witnessed-on repeated occasions-what havoc a few dedicated Islamic terrorists can wreak once they've set their minds to it. However, the fact that none of them have been apprehended, while this courageous woman lives in fear, is indicative of Europe's present-and perhaps a portent of our future-in a very chilling way.