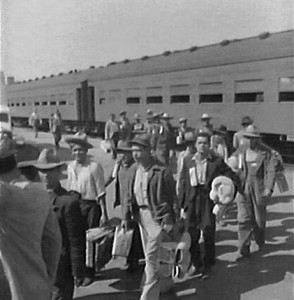 In a gubernatorial race where both candidates are to a greater or lesser degree beholden to the open borders lobby, notwithstanding the requisite pre-election posturing of the GOP standard-bearer, a genuine debate about the impact of  mass immigration upon California has not materialized, alas. Even so, the public policies which have irrevocably transformed the Golden State over the past three decades continue to be felt by ordinary Californians and scrutinized by academic scholars. Both groups can't help but recognize the devastating impact that generations of illegal migration and low-skilled immigration have had upon a state which once served as the sum of hopes for Americans throughout this country, but no longer.
It's not surprising with findings such as those by researchers at USC, who have concluded that up to ten percent of the California workforce is comprised exclusively of illegal immigrants. Two of the fields in which they exercise the most economic dislocation are, naturally enough, the construction and agricultural industry. However, the notion that the one and a half million unemployed Californians are simply shut out of these jobs-whose pay scale has been perpetually degraded by years of unfettered illegal immigration-is misleading. Beyond question of legality, the impact of mass immigration upon the working age population in California, the epicenter of technological innovation in the United States, has made itself felt in much more lucrative fields, as the scads of unemployed graduates in STEM fields can attest to.
Oddly enough, a legal amnesty for the millions of illegal aliens gainfully employed in that state would probably not lead to any increase in wages for those at the bottom of the labor market, as the Public Policy Institute of California has demonstrated. The very forces that attracted these workers to the United States, i.e. employers looking to find an unlimited supply of cheap labor and a government unwilling to enforce the law, ensure that they will remain mired in poverty for the remainder of their working lives. Unfortunately, the future of this country can be seen in the present of California, where hardly anyone benefits-and scores suffer-save for a few politically powerful corporate and political interests vested in a system that ensures the gradual degradation of the body politic and its economy.