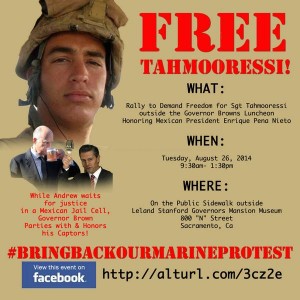 Kudos to Assemblyman Donnelly for once again reminding us of how our ostensible ally to the south treats American citizens.  For those of you who don't know, Marine Sgt. Andrew Tahmooressi has been languishing in a Mexican prison for over five months for unintentionally violating Mexico's draconian gun laws. Fox News provided a handy cheat sheet explaining the circumstances of his detention, which I recommend skimming in order to understand the pettiness of these charges, especially in relation to a nation which demands that we accommodate millions of their countrymen who routinely flout much more serious American laws. 

If the Mexican government's actions are understandable, then the reaction by our nation's political class is unconscionable. Governor Jerry Brown intends to wine and dine  visiting Mexican President Enrique Pena Nieto without raising this pressing issue with his honored guest. That's why Tim Donnelly's event later today is of crucial importance in spreading awareness of this intolerable situation. Mexico's leadership needs to be put on notice that it can't flagrantly abuse American citizens with our tacit consent, and the only way that message is going to register is if American public officials exert pressure upon them.
That's where you come in. The American public needs to make it known to our political class, even in deep blue states like California, that it will not tolerate this treatment of honorable servicemen and women. Let that message resonate today!