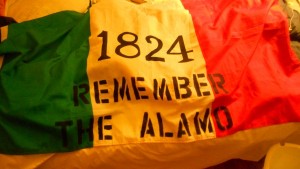 Monday marked the 178th anniversary of the Battle of San Jacinto, the decisive military engagement of the Texas Revolution, which ensured the defeat of General Santa Anna's armies and the independence of what would become, in time, the Lone Star State. Although not the only revolt against the central government's negation of federalism  within Mexico, it was, obviously, the most successful. 
In the past, we've explored the President's misguided, ahistorical view of Mexican-American relations, but today we'd like to salute the courageous Texas patriots who risked their lives and freedom in order to ensure that the values embodied by the Constitution of 1824 were upheld. We would also like to salute the bravery of the Mexican soldiers who endured extreme hardship in order to give battle to their former countrymen, in spite of the craven leadership of their military commander. 
For a good overview of how this great battle unfolded, I suggest reading El Jefe's fascinating examination of this consequential date in American and Mexican history.