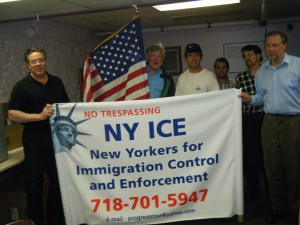 We don't often have cause to celebrate the actions of the New York State Senate, but our legislators made a wise decision yesterday by rejecting the Dream Act. Congratulations to the Republican majority, as well as the two courageous Democrats who rejected what was almost certainly intense pressure to truckle to the demands of La Raza and its legislative marionettes.
Most importantly, kudos to those New Yorkers who stood up to the treason lobby and defended our state's taxpayers from yet another scheme to extort money from their pocketbooks in order to bankroll a key Democratic constituency.  A special shout out to Joanna Marzullo and the good folks at NY ICE, who were front and center during this momentous debate, as well as at the forefront of opposing Bill de Blasio's attempts to accredit illegal aliens living in New York City. If more citizens had their dedication and persistence, then our margin of victory would have never been this narrow. 
Keep up the good work!