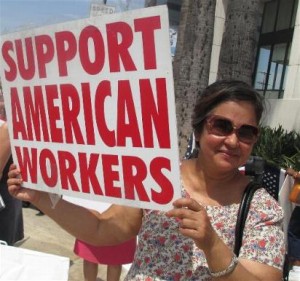 Courtesy of Joanna Marzullo at NY ICE.
October 5, 2013, NY ICE was part of  nationwide counter-demonstrations against the most recent illegal alien demand for amnesty.
The photos above are from that rally. The first photo is from our California resistance, called We the People's California Crusader.  The second photo is taken in New York City, and features a NY ICE Member, Jim M., holding the sign, "You Lost".
You see, it appears, in what is perhaps the epitome of irony, that illegals are upset that the American government is taking too long to give them their invalid and undeserved amnesty.
Hmmm….well, the American Government promised the American people effectively secured borders in 1986, and we, the American People, are still waiting for them to fulfill that promise.  
From the front lines, here is what NY ICE Member, Jim M., had to say: On October 5th, 2013,  speakers demanded in English and Spanish that illegal aliens be given citizenship and full access to government benefits. Bill de Blasio (who is likely going to be the next NYC Mayor), was the keynote speaker, along with his wife Chirlane McCray.  A theme that kept coming up in the speeches was their frustration that Congress isn't moving quickly enough to pass a mass amnesty law.

So, illegals are whining that our government is taking too long to roll out the red carpet of reward for their trespassing.  NY ICE reminds them that that same government is overdue on its promise to effectively secure the border by 27 YEARS and counting.
We owe illegals alien trespassers NOTHING, but our American Government needs to keep the promises it made to U.S.