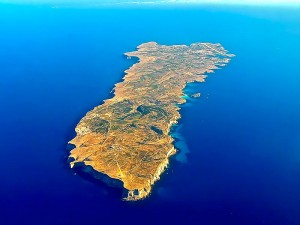 Yet another horrific shipwreck has occurred off the coast of the Mediterranean island of Lampedusa, which has become ground zero in the ongoing invasion of Europe by refugees from North Africa and the Middle East. You can view the harrowing rescue of some survivors here. The human tragedy-experienced both by the foreigners surging over the periphery of Europe and the inhabitants of the European islands which are involuntarily hosting them-is magnified by shortsighted foreign policies pursued by Western nations, including the United States, which have devastated countries like Libya and Syria, the source of many of the migrants seeking, and being granted, sanctuary.  
You don't have to be an open borders dogmatist, or want to turn the developed world into a gigantic hostel for third world immigrants, to be anguished by the tableaux from southern Europe we've been witness to over the past few days. Horror, as well as disgust, are natural reactions to such abhorrent circumstances. Whether this most recent tragedy leads countries like the U.S. and United Kingdom to reexamine their invade the world, invite the world policies, or a nasty African dictatorship to reconsider its views on military conscription, i.e. slavery, remains to be seen. Regardless of what broader impact these latest deaths have, they should at the very least serve to illustrate the magnitude of the problem faced by Europe, and by extension, America.
The Camp of the Saints is no longer a dystopian fantasy, but an uncomfortable reality.