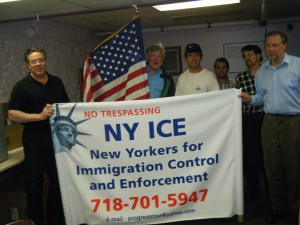 Mitch McConnell and his band of merry man have decided to let debate on the Gang of Eight  catastrophe 
proceed
. That means that we have to push back even more vigorously. Joanna Marzullo, of New York ICE, has details of an upcoming event where you can make your voice heard. All of the information you'll need can be found below the fold. 
Hi NY ICers!
NY ICE will once again counter protest the D.R.E.A.M. Amnesty this coming Tuesday. The illegals  are again demanding for their D.R.E.A.M. amnesty for illegal alien college students. This time, they will be in front of NY Governor Cuomo's Office. NY ICE will likely, once again, be the only ones countering them.
So, please come if you can! The D.R.E.A.M. Amnesty is not even about illegals having access to college, which, unfortunately, they already have, but it's about them having access to financial aid!  Yes, they want YOU to pay for it!
Here are the details:
WHAT:  NY ICE Counter Protest Against the D.R.E.A.M. Amnesty
WHEN: This Tuesday, June 11th, 2013, from 1:00pm to 2:00pm
WHERE: Governor Cuomo's NYC Office located at 633 Third Avenue, between 40th and 41st Streets in Manhattan.
BRING:

  As always, bring Cameras and Signs. Signs should be simple, and in bold-faced lettering.  A good idea for signage is:  "Their D.R.E.A.M. is our NIGHTMARE".
CONTACT:  Joanna at progressrose@yahoo.com to let her know if you will be able to come!