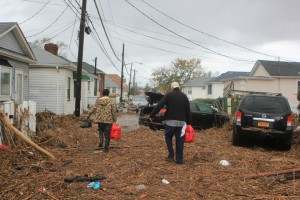 Note: For those of you that would like to help the residents of Oakwood Beach who  have been devastated by Hurricane Sandy, my friend Tracy Diaz has established a chipin called the Oakwood Beach Rescue Fund, which will assist some of the people impoverished in this storm's aftermath.
One of the tragedies of Hurricane Sandy, in addition to the enormous human and material cost it has exacted from our city, is the misery which the chronic inefficiency and incompetence of our government has wrought. From the economically incoherent and historically ignorant institution of price controls to the resuscitation of policies as intellectually vapid as the men who impose them, the specter of the state making the lives of those already suffering even more unbearable is everywhere.
Even the federal bureaucracies established to ostensibly aid people who have been the victims of natural disasters are woefully incapable of executing even the most elementary aspects of their missions. No one grasps this concept more acutely than the residents of Staten Island, who have seen firsthand why relying upon the generosity of government bureaucrats is such a risky proposition.
I've experienced the ineptitude of the Federal Emergency Management Agency at least once today when I encountered a group of no doubt well-intentioned FEMA volunteers who were canvassing my neighborhood. To what end? I honestly can't answer that question. Granted, there have been sporadic power outages throughout the past two weeks-Internet connections are still patchy-and there aren't many local gas stations in operation. However, I can't think of anything in my town which necessitates emergency services-least of all those provided by a six billion-dollar federal agency, especially when there are blocks less than a five minute-long drive from my house which resemble ransacked villages.
Aside from handing out fliers advertising loan guarantees from the federal government and listing a phone number where you're greeted with a pre-recorded message, I don't see what exactly they accomplished in their brief tour of my neighborhood-other than wasting a few gallons of gas. Although I and my immediate neighbors were lucky enough to have survived Hurricane Sandy more or less intact-the worst damage my home received was a blow to its already partially disassembled gutters-some of my friends who don't live as far inland were not as lucky.
Tina Sabella Downer, like many residents of Oakwood Beach, experienced an immeasurable loss when the home she and her family had lived in for nearly two and a half decades succumbed to the ravages of Hurricane Sandy. Her story illustrates the lunacy of depending upon the responsiveness of government officials, let alone relying or depending upon their munificence to protect you or your loved ones. This is a lesson that tens of thousands of New Yorkers-including scores of families living in NYCHA housing units-are experiencing in the most palpable way possible.
Tina's letter is reproduced in its entirety below.
I need this story to spread, please help me get this out; I also need the media at 45 Foxbeach Avenue.
My husband and I purchased our home in 1988 in Oakwood Beach. It is a blue collar, working class neighborhood. Many residents are NYC Employees… all owner occupied, we take pride in where we live…though the homes are small, they are well kept, some residents such as myself loved it so much that we expanded instead of moving, because it is like living in a nature sanctuary, we are surrounded by wildlife, and the residents respect it.
In 1992, we were hit by a NorEaster, and we formed a group, Oakwood Beach Flood Victims Committee, and we took on the red tape Bureacracy, to obtain protection from Storm Surge. We fought and battled for 5 years, getting flooded with only full moons or high tides , before the temporary solution was even offered.
We knew it wasn't enough but we were told it was a bandaid, and the long term project would give us the protection that we needed. The short term project or Bandaid began in 1996 and was completed in 2000. For the past 20 years, I have watched each Congressional representative throw money at The Army Corpes of Engineers Study, and there is still no answer.
We have now lost the little bit of protection that we had. We cannot rebuild our homes here without protection from the ocean…we lost 6ft of earth from the SeaWall, it is dangerous to live there. We cannot get our homes back to normal to only be sitting ducks…we have lived through 1 disaster in 1992 20 years later we are reliving it…who ever has a home still standing, cannot live there, a community thrives when people are there to look out for eachother. I have all of the files from the 1992 committee meetings and correspondence, as well as email correspondance and constant reminders that we had a problem…We cannot rebuild, please share this.