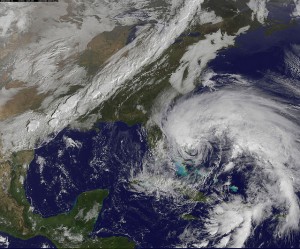 As Hurricane Sandy makes its approach, it's important to have access to relevant, useful information. In addition to possible flooding in low-lying and coastal areas, there's also a high wind warning from the National Weather Service. You can find more information about Sandy's development by looking at an interactive tropical storm tracking map, courtesy of Newsday. Another useful resource is a map of New York City hurricane evacuation zones from the New York Times.
Needless to say, if you're planning on using public transportation this week, you might encounter some difficulties. For a good view of what Sandy looks like at the moment, NASA has an animation based upon the observations of the National Oceanographic and Atmospheric Administration. That said, the most important thing is to stay safe. For those of you  with power, check out Angel Clark's mesmerizing photo slideshow and video of the damage Sandy has already inflicted upon Maryland and Delaware.
As for the rest of you, stay safe.