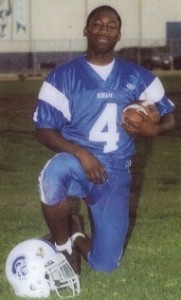 Even as California increasingly seems intent upon sinking into the abyss, there is some encouraging news to report from the Golden State. Most of you are familiar with the tragic story of Jamiel Shaw Jr., a bright, energetic young student-athlete from Los Angeles who was indiscriminately killed by a criminal alien while his mother was serving her country overseas. After four painful years of pursuing justice, the Shaw family can now take some comfort in the knowledge that the illegal alien gangbanger who murdered their son has been convicted by a California jury. 
I urge you all to listen to the reaction of Jamiel Shaw's father to the verdict, which can't possibly repair the psychic trauma of losing not only his namesake, but his link to the future. The Shaw family has doggedly fought against the institutionalized politics of a city that joyfully clings to its status as the capital of the third world by attempting to pass Jamiel's Law, which would have amended Special Order 40-the directive that allowed the murderer of Jamiel Shaw Jr. to roam Los Angeles without any fear of apprehension and deportation. The fact that the political class has refused to adopt this measure does not mean the threat from illegal aliens in the City of Angels has abated. To the contrary, the systemic targeting of black individuals by primarily Mexican and Central American gang members continues to plague Southern California. To get an idea of how pervasive this crime pandemic is, I recommend reading The Mexican Mafia by Tony Rafael, which chronicles the rise to power of the most ubiquitous criminal syndicate in the state of California.
Our thoughts and prayers go out to the Shaw family as it continues to struggle for justice and fights for the memory of its beloved  son and nephew, Jamiel Shaw Jr. As we enter the sentencing phase of this trial, we can only hope that this capital crime is punished with the harshest sentence available.