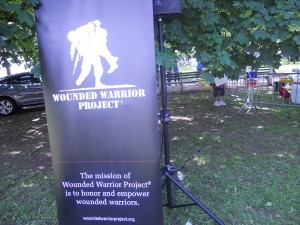 On the day when our nation remembers the men and women who made the ultimate sacrifice for their country, it's appropriate that we don't forget the sacrifices made by those who returned from their service less than whole. In addition to the over 6,000 servicemen who've perished in the theaters of Iraq and Afghanistan, there are tens of thousands of  veterans returning from combat who continue to suffer from devastating physical and psychological injuries.
That's why organizations like the Wounded Warrior Project are essential. Reintegrating wounded warriors into the fabric of civilian life is a thankless task, but one that is absolutely necessary, which is why today is the perfect opportunity to find out more about its fantastic work with returning soldiers from across the country.
We honor those who perished in battle, but also salute those who came back from battle in need of a helping hand.